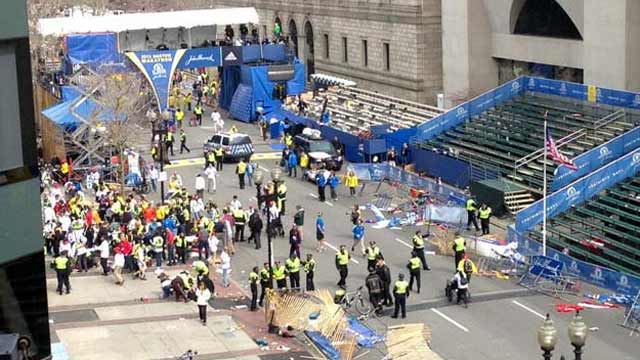 Scene from Copley Square at the Boston Marathon where there were explosions at the finish line. (Source: James Bardin)
BOSTON (WFSB) -
Hospitals in and around Boston have been in all-hands-on-deck mode since two bombs exploded at the finish line of the Boston Marathon Monday afternoon.
Hospital employees have been working around the clock caring for those that have been injured.
More than 140 people were injured, some of whom lost limbs and remain in critical condition.
When hospital personnel first received word of the blasts, they immediately sprung into action.
"Everybody rose to the occasion, and we have had people who flew back in here and somehow made it back within hours," said trauma surgeon Peter Fagenholz.
A heavy police presence has been noticed at hospitals around the greater Boston region. With an entire city on edge, heavily armed officers are now patrolling in and around hospitals to ensure the safety of those already injured by the explosions.
Copyright 2013 WFSB (Meredith Corporation). All rights reserved.