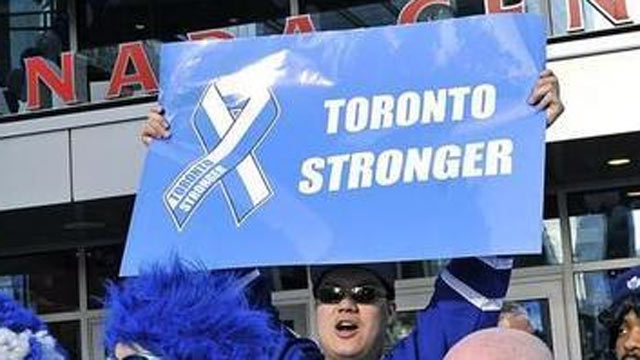 CBS Boston
TORONTO, CANADA (WFSB) -
It's no surprise that sports rivalries can bring out the best and worst in people, but one Toronto Maple Leafs fan took it a little too far.
According to CBS Boston, that was clear after a Maple Leafs fan was attacked after leaving the TD Garden after Game 2 of the Stanley Cup Playoffs.
And, according to the article, as thousands of fans gathered in Maple Leaf Square for Game 3, one fan that was holding a homemade sign drew the most attention.
The sign read "Toronto Stronger,'" which is in reference to "Boston Strong," the motto that has been used by people across the country in response to the bombing at the Boston Marathon last month that killed three and injured more than 250 others.
Pictures of the sign quickly made their rounds across Twitter and Facebook, and by the start of the second period, the article said, "Toronto Stronger" was the number one trending topic on Twitter.
Copyright 2013 WFSB (Meredith Corporation). All rights reserved.