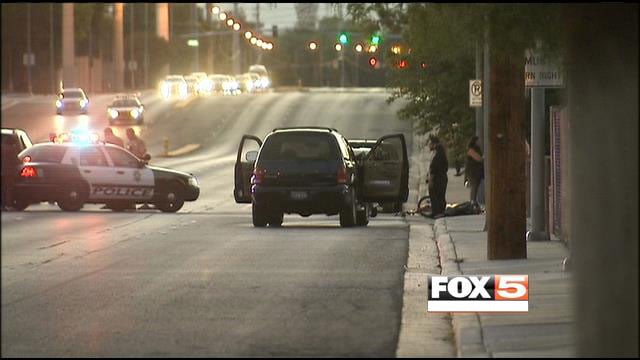 Police said a 2-year-old boy fell out from the back of a moving SUV and was then struck by a car near Mountain Vista & Russell. (FOX5)
LAS VEGAS (FOX5) -
A toddler fell out from the back of a moving sport-utility vehicle and then was struck by a car when he tried to cross a road back to his mother, Las Vegas Metro police said.
Authorities said the child received serious injuries following the crash at Russell Road near Mountain Vista Street at about 6 p.m. Sunday.
According to police, the boy's mother placed the 2-year-old and a couple of bikes in the trunk area of the SUV. Police believed the hatchback was not latched all the way, causing the boy to fall out of the vehicle once the vehicle drove away.
Police said the mother realized what happened, got out of the vehicle and spotted her child.
Metro Sgt. Richard Strader said the mother walked toward the boy while the child was running towards the mom. That was when a vehicle driven by a 69-year-old motorist hit the boy, police said.
Strader described the incident as an avoidable situation.
"I hate to point fingers at anybody, especially at a tragic time like this," Strader said. "The reality is … avoidable. Shouldn't have happened."
The boy was taken to Sunrise Hospital with non-life-threatening injuries. Police said the boy was taken to the trauma center with serious injuries to his face.
Copyright 2013 KVVU (KVVU Broadcasting Corporation). All rights reserved.