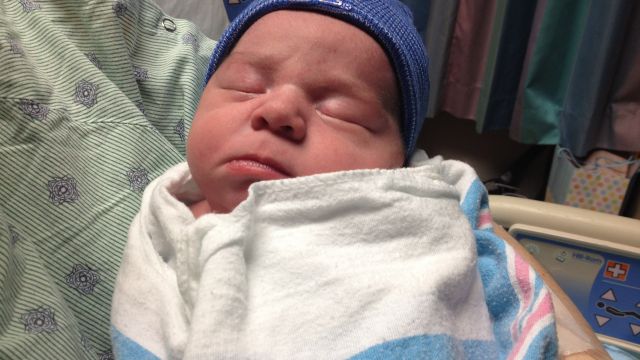 James Douglas Oliver born on 11/12/13 at Greenville Health System. (Nov. 12, 2013/FOX Carolina))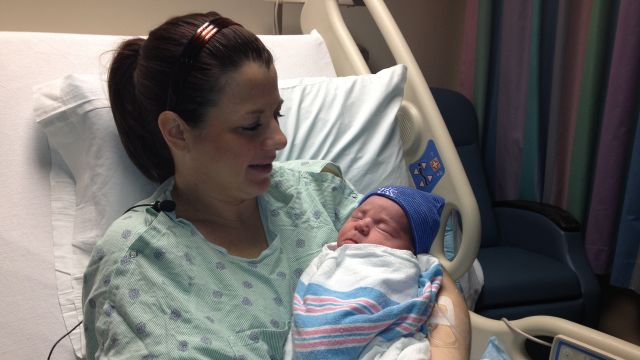 Sarah Oliver celebrates new son's unique birthday. (Nov. 12, 2013/FOX Carolina)
GREENVILLE, SC (FOX Carolina) -
A baby born in the Upstate on Tuesday has a unique birthday - 11/12/13 - and his parents also have a unique story about their wedding day.
James Douglas Oliver was born at Greenville Memorial Hospital just before 3 p.m. on the sequential day of 11/12/13.
His parents, Sarah and Chase Oliver, were married on 9/10/11. Sarah Oliver is a pediatric resident at the hospital and said it was exciting to be on the other end of experiencing a birth with her son.
"Somebody mentioned that our anniversary is 9/10/11 and how cool it would be if he were born on 11/12/13," Sarah Oliver said. "So, that was really the first time we kind of thought about it and then it was really cool that it actually happened."
The Olivers said they didn't plan the birth for 11/12/13, Sarah Oliver's due date was 11/21/13.
A Greenville Health System spokesperson said more than a dozen babies were born on 11/12/13.
Copyright 2013 FOX Carolina (Meredith Corporation). All rights reserved.