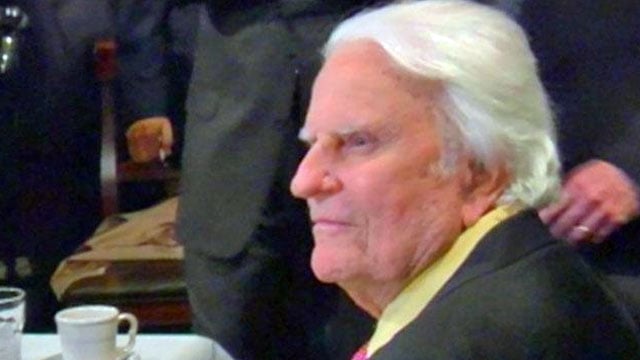 GREENVILLE, SC (FOX Carolina) -
The Rev. Billy Graham is becoming weaker after his latest stay in the hospital, according to spokesman Mark DeMoss.
"Mr. Graham is at home and his vital signs are good, though he has generally been weaker since his 95th birthday celebration one month ago," DeMoss said in a statement Sunday. "He does not appear to be in any imminent dangers. Franklin Graham said he would appreciate prayer for his father."
Graham's son Franklin remarked that his father's health had been declining Friday on a Charlotte area news broadcast.
Graham was hospitalized for two days last month at Mission Hospital in Asheville while he was treated for a respiratory illness.
Graham's most recent hospitalization came just weeks after the evangelist celebrated his 95th birthday.
Copyright 2013 FOX Carolina (Meredith Corporation). All rights reserved.