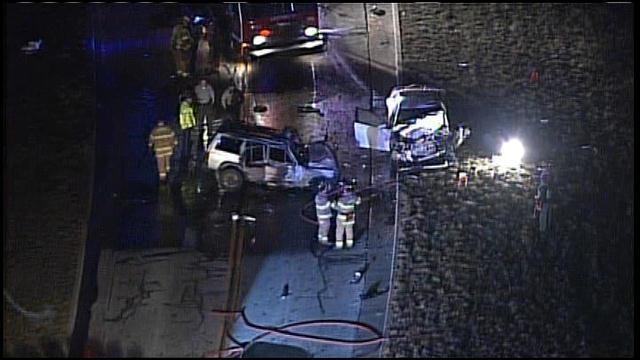 LIBERTY, MO (KCTV) -
A would-be burglar may have landed himself and an innocent victim in the hospital Thursday night.
Liberty police said officers were responding to an attempted burglary call in the 600 block of North Forest when they had a second call of a head-on collision. One of the vehicles in the collision, a gray Jeep Cherokee, matched the description of the vehicle used in the attempted burglary.
The accident, which resulted in the Jeep being completely engulfed in flames, occurred on Glen Hendron Drive, just north of Liberty Hospital. That's fairly close to the site of the attempted burglary. Police said the two may very well be related, although no charges have been filed.
Both the driver of the Jeep, a man, and the driver of the second vehicle, a woman, were taken to Liberty Hospital. The extent of their injuries is unknown.
Police said the case is under investigation.
Copyright 2013 KCTV (Meredith Corp.) All rights reserved.